NEW THERMAL CAMERA – COVID-19 SPECIFIC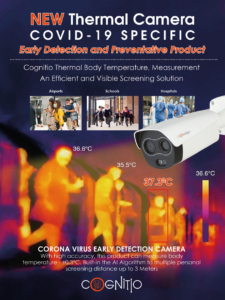 · 256x192 VOx uncooled thermal sensor technology
· Athermalized Lens (thermal camera), Focus-free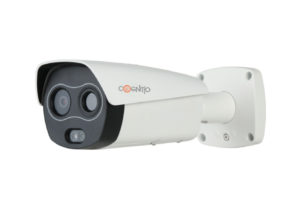 · 1/2.8" 2Megapixel progressive scan Sony cmos
· Support ROI, Motion Detection, Color Palettes
· Support body measure temperature,
· Measurement Accuracy: ±0.3°C, with blackbody
· Active deterrence with white light & siren
· Built-in 2/2 alarm in/out
· Micro SD memory, IP67, PoE
SYSTEM OVERVIEW
Featuring a dual lens, fixed bullet camera, this series provides an
all-in-one solution for capturing video surveillance for indoor and
outdoor applications. Together with Thermal and Visible Technology,
the camera is the perfect solution for dark, small area monitoring
applications. The series combines one thermal camera for monitoring
in total darkness and one visible camera with Smart IR for confirming
details.
FUNCTIONS
Uncooled Vox Technology
Dahua thermal cameras use uncooled Vox sensor technology . Because of
small size and better performance, it's cost-effective solution for thermal
security.
High Sensitivity
High thermal sensitivity(<50mK) makes cameras capture more image
details and temperature difference information.
Active Deterrence
Actve deterrence is to warn off intruders actvely with white light and
siren even before users are aware of the incidence. Once an intursion is
detected, the white light will turn on and the siren will buzzer to alert the
intruder. The white light and the content of siren is confgurable.